Products: Fuel Filter Separators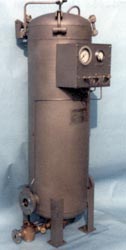 Product Overview
Admiral's fuel filter separators provide efficient removal of free or entrained water and solids from engine fuels. Ideal for marine, land and aircraft fuel filtration applications, Admiral's fuel filter separators can be fabricated from:
Carbon Steel
Stainless Steel
Monel
Copper Nickel
Aluminum
Admiral fuel filter separators satisfy the requirements of MIL-F-15618
and meet or exceed the performance requirements of MIL-F-8901.
Applications
Jet Fuels
Fuel Oils
Kerosene
Gasoline
Solvents
Refineries
Bulk Plants
Airports
Features
O-Ring for tight sealing of vessel.
Swing bolt closure for easy access to coalescer and separator elements.
Monitoring of inlet, differential and separator elements.
Automatic discharge valve shuts down flow when a slug amount of water enters the vessel.
Automatic drain valve opens to remove water after reaching a predetermined level.
Sight glass allows visual verification of water level.
Process Description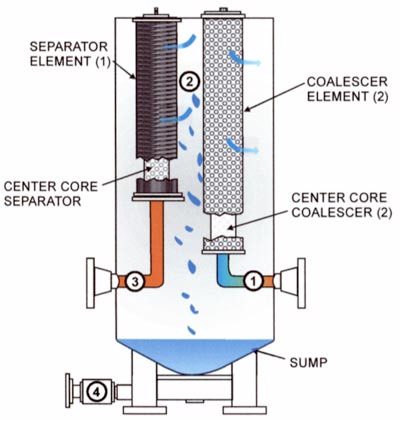 Unprocessed fuel enters the filter separator through the inlet port and flows through an elbow and tee assembly upward into the bottom of the two coalescer elements
Fuel flows through the coalescer elements from inside to outside filtering out solid contaminants and coalescing entrained water into large droplets that sink to the sump area. The fuel then passes through the separ ator element from outside to inside, and any remaining water is removed.
After passing through the separator element, the clean fuel is discharged via a pipe and elbow and exits the filter separator through the outlet port.
The float assembly senses the level of water in the sump and discharges it through the valve when the water reaches a predetermined level.
Specifications
  * Other requirements available. Refer to factory.

Design Pressure*

Operating Pressure*

Test

Flow Range*

Maximum Pressure Drop*

150 psi

75-150 psi

150% of design pressure

10-500 GPM

5 psi

1034.3 kPa

517.1 - 1034.3 kPa

2.3 m3/hr - 115.6 m3/hr

34.5 kPa