Products: Duplex Lube Oil Filter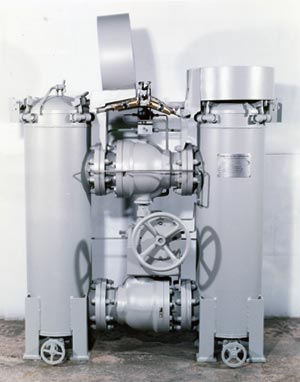 Product Overview
Admiral's duplex lube oil filters provide uninterrupted flow during fluid transfer and cartridge changeout. Filtration of lube oil at flows up to 1500 GPM are standard. Higher flows are available, with system pressures up to 500 p.s.i.

Admiral's duplex lube oil filters are installed on hundreds of naval and merchant marine vessels worldwide, including frigates, destroyers and submarines, e.g. AD, AOE, LSD, AO, FF, AS, DDG, SSN, LHA, MCM, FFG, and DD class, US Navy ships, plus those of foreign navies.
Product Description
Two cylindrical housings are connected via inlet and outlet valves. The valves are linked by a common gear box with a hand wheel that allows selection of a clean housing without interruption of the oil flow. Oil enters the top of the housing, and particulates are trapped within the elements as the oil passes through. When a predetermined differential pressure is reached, changeover to a clean housing is accomplished, automatically or manually. The cover hold-down bolts and vent valve associated with the out of service housing become exposed and this allows the dirty filter elements to be cleaned or replaced without interruption of flow.
Features
Fabricated construction gives flexibility
Indicator shows housing in use
Pivoting safety cover encloses closure bolts and vent valve of housing in operation
Equalizing valve closes automatically when unattended
Fail safe interlock prevents accidental changeover during element maintenance
Features cont.
Spray deflector welded to head/housing
Provides uninterrupted flow during fluid transfer
Accepts disposable or cleanable elements, or baskets without hardware modification
Minimum space for mounting and easy maintenance
MAXIMUM PROTECTION TO ENSURE SAFETY IN OPERATION
Specifications
| | |
| --- | --- |
| Model: | Duplex Filter, 6" NPS |
| Filtration Efficiency: | 25 Microns Absolute |
| Specification: | MIL-S-17849D, Type I, Class 8 except for C.S. welded construction & HH-P-96 gasket material |
| Flow Rate: | 850 GPM @ 80 psig |
| Liquid Filtered: | Lubricating Oil per MIL-L 17331 |
| Operating Pressure: | 10 psig maximum with 600SSU oil at 90°F |
| Hydrostatic Test Pressure: | 90 psig |
| Clean Pressure Drop: | 143 psig |
| Unit Height: | 57 inches maximum |
| Unit Width: | 59 inches maximum |
| Dim. Across Inlet & Outlet:  | 30 inches reference |
| Unit Weight, Dry: | 1500 pounds estimated |
| Unit Weight, Wet: | 1850 pounds estimated |
| Temperature Range: | 40° to 180° |
| Material, Housing: | Carbon Steel |
| Test Qualifications | |
| Shock: | MIL-S-901 Grade A Class I |
| Vibration: | MIL-STD-167 Type I |
Typical Aplications
Engines
Turbines
Compressors
Generators and other rotating and reciprocating machinery
Lube or Fuel Oil (Diesel or Turbine)
Sea or Fresh Water
Options
Alarm Switches
Totally Automatic Changeover
Backflush or Self-cleaning
Differential Pressure Gauge
Differential Pressure Indicator
Inlet and Outlet Pressure Gauges
Various construction materials; Cupro Nickel, Monel,
Stainless Steel, & Aluminum